Happy OHL Draft Day! There was no big surprises this morning since the Barrie Colts announced yesterday that they had selected Ryan Suzuki from London.
Here is a look at the Barrie Colts selections through the first 5 rounds at the Draft. We will give a little info on each player, as well as responses from Twitter.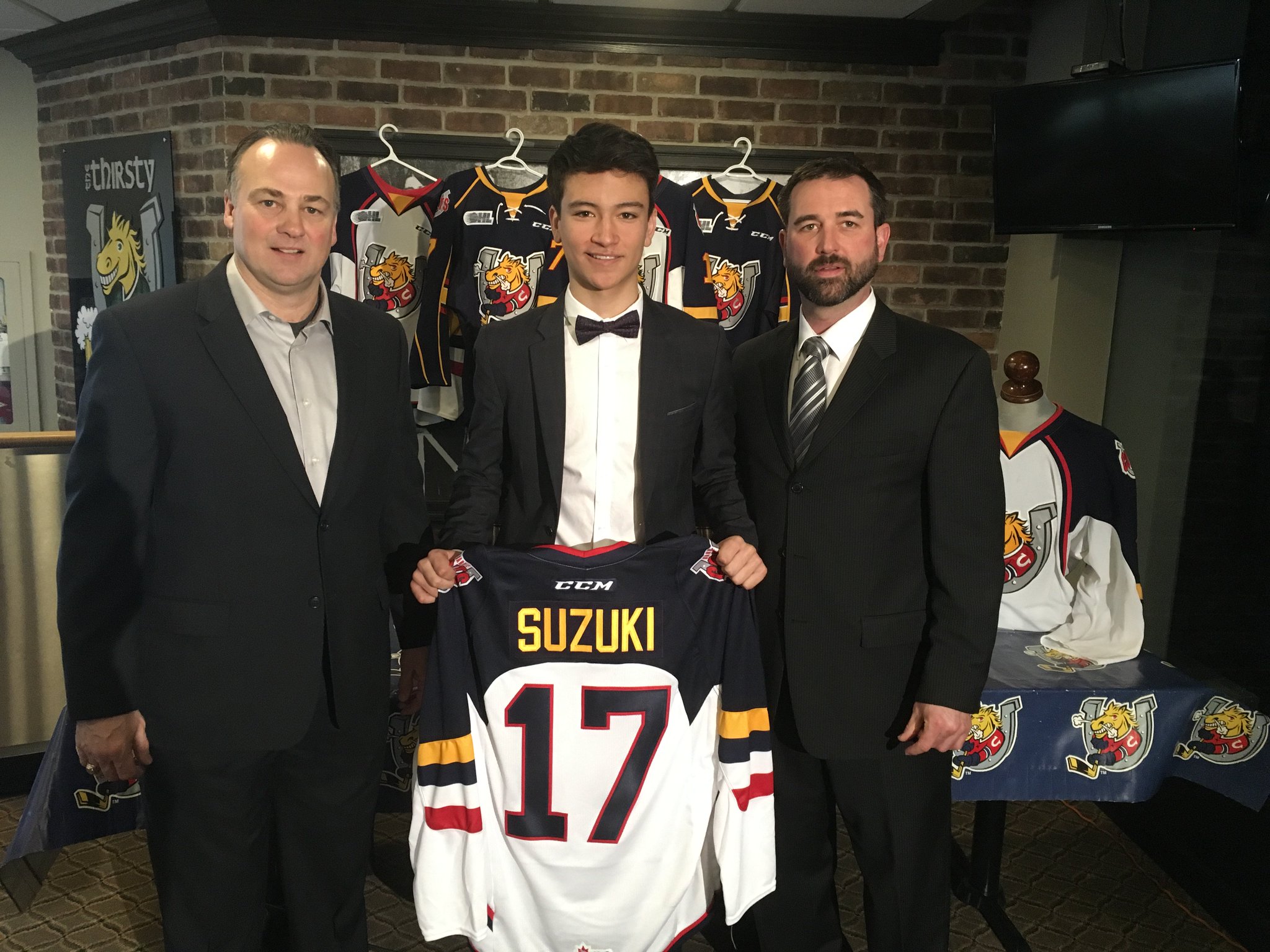 Round 1, 1st Overall – Ryan Suzuki - C
The Barrie Colts used their top pick to get Ryan Suzuki of the London Knights. Ryan was born in London, ON. This season with the Knights, Ryan scored 18 goals and added 39 assists to total 57 points over 31 regular season games. During the Playoffs he managed to average 2 points a game, scoring 9 goals and adding 13 assists over 11 games.
Ryan is 6'0.5 and weighs 165 lbs.
— Nick Suzuki (@nsuzuki_37) April 7, 2017
1. Barrie - Ryan Suzuki, Elite Centre with High end Skill Package. Versatile as playmaker and goal scorer, strong skater and hockey sense

— Mike Mackley (@Macker61) April 8, 2017
Congrats to Ryan Suzuki 2017 1st overall pick to the Barrie Colts. Made awesome memories at the BMC, w/great teammates/friends

#ingoodhands

— Aaron Ekblad (@Ekblad5FLA) April 7, 2017
Round 2, 32nd Overall – Nate Allensen – LD
The Colts used their 2nd pick to bring in blueliner Nate Allensen from the Waterloo Wolves. He had a strong season putting up 10 goals and adding 20 assists to his season. Though only 5'10, 173 lbs, scouts say that he plays like a bigger bodied guy. Aggressive but has a strong 2-way game.
— Peter Harling🏒 (@pharling) April 8, 2017
Colts Fans are going to absolutely love Nate Allensen. A beast on the back end who will eat minutes in the OHL.

— Tristan Whitley (@twhit46) April 8, 2017
Round 3, 56th Overall – Calvin Greaves – G
Colts used their 3rd pick to bring in a goaltender. Calvin played with the Cambridge Hawks where he would see 16 games and would put up a 2.57 GAA. Not the standard size you see in goaltenders standing at 5'9/149 lbs but he is young and that can change. Said to play a solid game and is very quick.
Barrie Colts take Calvin (Jet) Greaves with their pick. A little off the board, but the kid has great upside, smaller but very quick/focused

— Ryan Yessie (@RyanHPscout) April 8, 2017
Calvin Jet Greaves...Great name goes to Barrie.

— Kenny Walls (@LongBallsWalls) April 8, 2017
Round 4, 61st Overall – Mathew Hill – LD
The Ponies pick up their 2nd defenceman at the draft in Mathew Hill. Hill played with the Toronto Jr. Canadiens where he would score 1 goal and add 11 assists over 33 games. Big bodied kid, standing 6'3/176 lbs, he will add some size and physicality to the Colts blueline, while offering good speed and movement on the ice.
61. Barrie - Mathew Hill - Big, rangy, two-way defender. Simplistic approach, utilizes reach and stick well defensively, effective 1st pass

— Mike Mackley (@Macker61) April 8, 2017
— Toronto Jr Canadiens (@JrCanadiensAAA) April 8, 2017
Round 5, 81st Overall – Connor LePage – RW
Colts select Connor LePage with their 5th pick in the draft. The right winger played with the Toronto Titans. 5'11.5/177 lbs, scouts say he is a tough player with some skill. Good at controlling play and has the ability to score goals.
The

@OHLBarrieColts

get Connor LePage. Hard-working fwd who can drive the play with good skating and puck skill. Finds ice and can finish.

— Zach Fraleigh (@ZachFraleigh) April 8, 2017
Barrie Colts take Connor LePage, a hard working gritty forward with some skill as well.

— Ryan Yessie (@RyanHPscout) April 8, 2017
Very honoured and excited to be selected 81st overall by the

@OHLBarrieColts

looking forward to this new chapter

#gocolts

— Connor Lepage (@LepageConnor) April 8, 2017
Congratulations to all players selected! We will add a full list later on today after the draft is finished.