2016-17 Season Notes:
Finished 5th in the Central Division and 10th in the Eastern Conference.
Ended season with a 17-44-6-1 record.
Did not qualify for OHL Playoffs.
Anthony Stefano led team with 56 points (22G/34A).
Lucas Chiodo totaled 53 points. Most among returning players (22G/31A).
Barrie ended their streak of most penalty minutes. Sill 3rd most in league with 897 minutes.
192 total goals. 2nd fewest in OHL, after Kingston.
291 total goals against. 2nd most in OHL, after Guelph.
13.1% on Power Play. Lowest in OHL.
78.9% on Penalty Kill. 12th in OHL.
Jason Willms lead rookies in points with 13G/11A.
2017-18 Season:
Moving on:
Tom Hedberg, Roy Radke and Anthony Stefano.
Notable Additions:
Leo Lazarev, Alexey Lipanov, Ryan Suzuki and Andrei Svechnikov
Goaltending: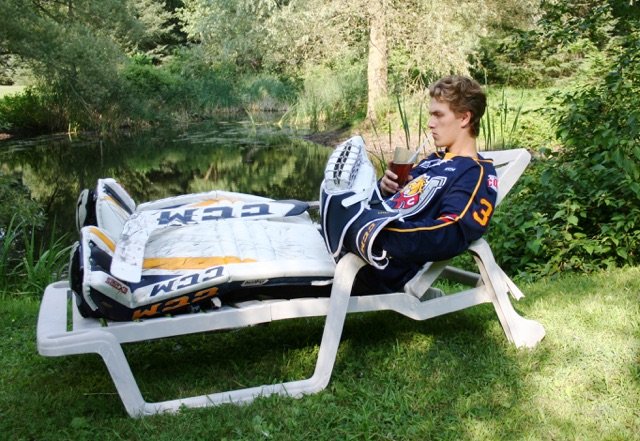 As of now the only sure thing is the goaltending in Barrie. Recently acquired Leo Lazarev will likely be the main guy this season with a hungry Christian Propp trying to earn the top spot, and Kai Edmonds who has had a solid camp.
Lazarev finished last season with a 3.84 GAA and a .888 save percentage in Ottawa over 43 games. Not only does he bring some skill to Barrie but also 153 games of OHL experience. Something the Colts can use.
Christian Propp was solid for the Colts last season finishing a tough season off with a 3.89 GAA and .884 save percentage. Propp and Ovsjennikov had similar numbers over the year in about the same amount of games played. Propp posted the teams only shutout on the year.

Edmonds has played a bit in the pre-season and has looked very good. Hopefully the team is able to utilize the goaltending situation better this season than last.

Goalie to watch: Though Lazarev will likely see the most time, I expect the competition will have Christian Propp really show up to play this season. He continually got better last season and was the Colts best goalie. The team decided from New Years on last year to split duty among the 3 goalies and that might have been a mistake. No goalie was really able to find a groove having only gotten one game a week. More games should allow Propp to really find his stride and develop into a reliable goalie.
Forwards:
The Colts lose their leading scorer Anthony Stefano after finishing his OA season last year. The team will look to returning players like Lucas Chiodo, who lead the team in points among returnees, and other players like Ben Hawerchuk, Zach Magwood and Jason Willms. Luckily for them, there is a lot of new talent coming in to help and maybe even show the "old guys" some new tricks. Svechnikov, Suzuki and Lipanov all look to bring some much needed excitement to a Colts team that really struggled last season.
Ryan Suzuki joins the team after being selected 1st overall at last years OHL Priority Selection draft. Perhaps you recognize the name? Well, Ryan's older brother, Nicholas Suzuki is a member of the Owen Sound Attack. Nicholas was selected by Owen Sound 14th overall in 2015, and since by the Las Vegas Golden Knights of the NHL. Ryan had an outstanding season with the London Jr. Knights putting up 19 goals and 40 assists over 32 games played. He would go on to win the Alliance Hockey Player of the Year award, which his brother also won in the 2014-15 season. His 59 points this season has him in 52 all time in the AHMMPL for total all-time points leaders. HE is the type of player that will make others around him better.
Alexey Lipanov and Andrei Svechnikov both come in as Colts players selected at the CHL Import Draft. Both have experience already playing with one another and you can't help that they could help fellow countryman Krill Nizhnikov his way in the OHL. Niz came in last season and had injury issues. Though he showed potential late, things never really went as anticipated after the Colts gave up a couple handfuls of picks for him. The addition of Lipanov and Svechnikov is not only going to bring individual skill to the team, but look for them to help elevate Niz's production over the season, providing he can stay healthy. Though he did struggle, he showed skill and you could easily see his skill level there. Expect him to show great strides in his game this year.

We mentioned him earlier, but again you must watch Lucas Chiodo. This kid just keeps getting better. Most points of returning players, he will be a guy that will help the new guys find their game in the OHL. I see Suzuki and Chiodo really clicking together.


The final roster hasn't been selected yet, but all the new talent means we will lose some faces from last season. It is always nice when you are left with hard decisions like this headed into the season.

Forwards to watch: Suzuki and Lipanov will be studs this season in Barrie but I think Svechnikov will be the most complete of the new talent. He has shown that he has all the tools and he has only played in 3 pre-season games. His speed is elite and he has been a monster on the power play. Not only offensively strong but he can back check as well. He has shown an ability to get back and break up plays and has displayed skill on the penalty kill. Oh, and he is aggressive. He has a big frame and knows how to use it. I Think Svechnikov is going to be a monster this year for the Colts.
Defence:
The team was so young last season and the blue line was no exception to that. This season will be a little different, depending on the returning players. Justin Murray will play a big role on this team and as we have said, we anticipate that he will be named the team captain this season. Murray led the team among devencemen last season putting up 2 goals and 22 assists. An area he really helped the team was shot production. Murray always was able to find a way to direct pucks on goal and his 116 was the 6th most on the team and the most among defencemen.
Joey Keane is returning this season after a successful rookie season. Joey lead rookie defenders on the team 1 goal and 18 assists. He was invited to the Chicago Blackhawks training camp this past week where he got a chance to really put his skills to test. Tyler Tucker will also return for his second season in Barrie after posting 1 goal and 13 assists last season. Tucker has seen some time playing the wing this training camp but I expect him back on defence when the season starts. He was a reliable defender and was hard to play against, hitting everything that moved.
Robert Proner moved on this past year but Tyler MacArthur has been at camp to tryout after leaving the OHL to play in the QMJHL last season. He has really been great for the team and looks like a natural fit. Look for him to make the team because he brings not only experience, but he is physical and a smart player in his own end. He even has a goal so far in the pre-season.
Defencemen to watch:
Tyler Tucker will be probably the most complete defenceman on the team this season. Murray will lead by example but Tucker will bring energy that will translate through the team. I expect him to put up 25 points this season and think that other players are really going to hate to play against him this season.
End of season prediction:
Started from the bottom now they're here. I think the Colts will surprise teams this season. Ryan Suzuki will find a way to elevate the team to another level. His vision and skill will help players around him. While, the Russians (Svechnikov, Lipanov and Nizhnikov) will bring speed and excitement. The team has more experience on the back end as well.
Will this team return to the top of the Central Division? Probably not.. But they can be close and maybe surprise everyone. I see this team returning to the playoffs and if they can grow together, there is no reason they can't make a decent run.
For an OHL prediction post, I was lucky enough to be included on a post by our friends at Bloggers Tribune which you can read
here
.

Colts regular season starts this Thursday when they host the Ottawa 67's.


How do you think the Colts will do this season? Let us know in the comments!